US military service members caddie for pro golfers during Sony Open in Hawaii Pro-Am Tournament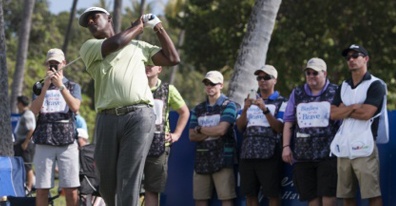 Wednesday, January 21, 2015
U.S. Military service members watch Vijay Singh, professional golfer, tee off at the 18th hole during The Sony Open in Hawaii Official Pro-Am Tournament at the Waialae Country Club Jan. 14, 2015, in Honolulu. Thirty service members participated in the Birdies for the Brave caddie program at the Sony Open Pro-Am where they volunteered to caddie for pro golfers. (U.S. Air Force photo by Staff Sgt. Christopher Hubenthal)
Article by Staff Sgt. Chris Hubenthal, courtesy of DVIDS [1]
HONOLULU - Military families were invited to the Sony Open in Hawaii as part of the Birdies for the Brave military appreciation program, supported by The Pasha Group, Jan. 15-19. Thirty service members were also selected to caddie for professional golfers during the Official Pro-Am Tournament as part of the Birdies for the Brave Military Caddie Program at the Waialae Country Club Jan. 14.
The program provided U.S. active duty service members from across the island of Oahu and all five military branches the chance to caddie for PGA Tour players for one hole during the Official Pro-Am Tournament.
Mike Connolly, Pasha Group Ocean Services Relocation Services vice president, explained how the 30 military members selected participated during the Pro-Am.
"On the 18th fairway active duty service members are invited by the PGA and the Friends of the Sony Charities to participate in the event by caddying for a pro on the 18th fairway," Connolly said. "They will literally relieve the normal caddie of his bag and act as a real caddie for that 18th hole. This is just a wonderful opportunity for us to give something back as well and thank people for their service." 
U.S. Marine Corps Capt. Casey Ward, assigned to the 3rd Marine Regiment, used the volunteer opportunity to not only spend one-on-one time with pro golfers, but also to contribute and better the event.
"Golfing has always been something I enjoy doing on my off time and being able to come out here and spend time with professional golfers, some of whom are in the golf hall of fame, is a phenomenal experience," Ward said. "Any opportunity where we can come out, contribute and give back is something we will always take the opportunity to do."
Ward sees the military caddie program as a unique chance for the U.S. Armed Forces and is humbled to volunteer.
"I think it is more of a product of opportunity that you can come out here and participate in these kinds of events," Ward said. "I'm very honored and blessed to have the privilege to do this because not everybody does.
Paul Goydos, professional golfer and winner of the Sony Open in 2007, took time to meet with service members and veterans at the Birdies for the Brave military appreciation tent during the Sony Open.
"These are heroes," Goydos said. "The real heroes at the Waialae Country Club at the Sony Open are sitting in this tent, not playing on the golf course. They are inspirational to me. These are people that have something in them that I obviously don't. For them to go out and do the things that they do, I come out here to inspire myself. These are good people."
The 2015 Sony Open marks the seventh year the Birdies for the Brave teamed with military service members during PGA Tour events across the United States.