Pacific Maritime's New Vessel and Tugboat Review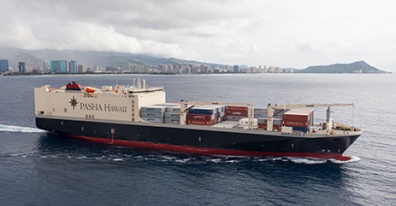 Friday, January 1, 2016
Article courtesy of Pacific Maritime
By Chris Philips
This year's selection of new vessels for West Coast work runs the gamut from big steel ships to small aluminum boats, but all are crucial to the continued success of the West Coast maritime industry and the yards that build and service these new vessels.
Container/Ro/Ro
In May, the 692-foot by 106-foot Marjorie C made waves as she began her maiden voyage for Pasha Hawaii from the Port of San Diego, California to Honolulu, Hawaii. The new Marjorie C is a combination container/roll-on/roll-off (con/ro) Jones-Act vessel named after Pasha Hawaii President and CEO George Pasha, IV's grandmother, Marjorie Catherine Ryan.
The new ship has a 350 metric-ton ramp and the capacity to carry 1,400 TEUs, as well as up to 1,200 vehicles. Onboard cranes allow her to service ports and handle containers without onshore gantry cranes.
The Marjorie C is the second ship built for Pasha by VT Halter Marine, after the 2005-built, 579-foot M/V Jean Anne, the company's first pure car/truck carrier.
The new ship is based on a successful design by Uljanik Shipyard in Croatia, but modified to suit the US Jones-act trade. Among the design enhancements is the reconfiguration of one of the container decks to better handle 40- and 45-foot containers rather than 20-foot units
The design was also upgraded to allow carriage of up to 150 reefer containers, with improved access to the container ends for in-voyage maintenance. The main engine is a turbo-charged single MAN B&W 8 cylinder ME-C slow speed, two-stroke engine rated at 19,040 KW at 105 RPM, turning a four-bladed fixed pitch propeller almost 23 feet in diameter, and providing a cruising speed of 21.8 knots.
"Constructed in the US, manned by US crews, with state-of-the-art technical capabilities, our ships provide streamlined, environmentally friendly capacity to the trade," says CEO George Pasha, IV. "Marjorie C is a testament to the value of the Jones Act."
Read the full story here [1].