Tropical Storm Olivia Update #1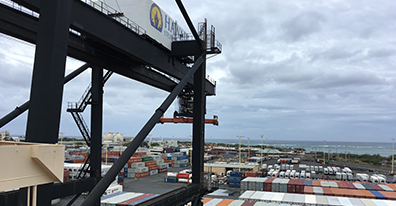 Wednesday, September 12, 2018
Honolulu, HI-based Pasha Hawaii remains ready and positioned to resume operations as quickly as possible following Tropical Storm Olivia to ensure the flow of goods to the people of Hawaii.
The Sunday arrival of the Horizon Reliance was not impacted by the storm; operations were completed on Monday and the vessel departed on schedule.
Yesterday (Tuesday, 9/11), an exception was granted by the U.S. Coast Guard and Hawaii Department of Transportation to allow Hawaii Stevedores, Inc. to run the gates for a limited time period at Pier 51 and Pier 1, enabling customers to pick up their cargo. The gates at Pier 51 and Pier 1 remain closed today; re-opening will be dependent on USCG and HDOT assessments once the storm has passed. 
Currently, two Pasha Hawaii vessels, the Jean Anne and the Horizon Enterprise, are positioned safely nearby. Due to its position in the harbor in the turning basin the Horizon Enterprise uses, it will be first in the vessel queue once the port reopens.
Weather conditions continue to be closely monitored as the storm moves over Oahu. Operations are anticipated to resume by early Thursday, subject to USCG/HDOT condition assessment and formal re-opening of Honolulu Harbor.