Pasha Hawaii Resumes Cargo Operations Following Passage of Tropical Storm Olivia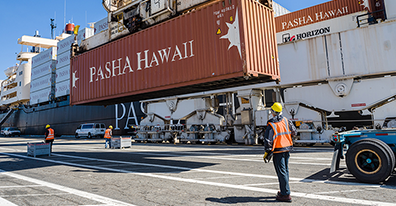 Thursday, September 13, 2018
Honolulu, HI-based Pasha Hawaii resumed operations last evening at Pier 1 and Pier 51 at Honolulu Harbor, after receiving an all clear from the U.S. Coast Guard and Hawaii Department of Transportation Harbors, following the passage of Tropical Storm Olivia over the Hawaiian Islands and the re-opening of all ports.
Two Pasha Hawaii vessels—specialty roll-on/roll-off vessel M/V Jean Anne and containership Horizon Enterprise—which had been positioned nearby in order to quickly return to port, commenced offload operations Wednesday evening as anticipated. From Honolulu, the Jean Anne will continue on to Kahului on Friday and Hilo on Saturday; the Horizon Enterprise will depart for the West Coast on Friday.
M/V Marjorie C, Pasha Hawaii's combination container/roll-on/roll-off vessel, is scheduled to arrive in Honolulu Harbor on Sunday.
"Once again, Pasha Hawaii would like to extend our sincere appreciation to the U.S. Coast Guard and Hawaii Department of Transportation," said George Pasha, IV, President and CEO.  "As with Hurricane Lane, these organizations did an excellent job in leading us through Tropical Storm Olivia, helping to keep our crew and vessels safe, and working to re-open the ports as quickly as possible to ensure cargo could be delivered with minimal delays. I am also proud of our team members who continue to rise to the challenge."