Pasha Hawaii Recognized for Environmental Excellence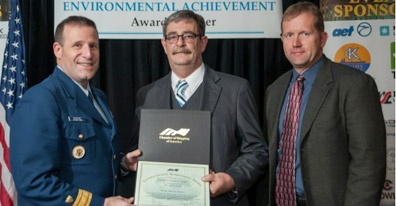 Thursday, November 14, 2013
At a November 13 ceremony at the Ronald Reagan Building in Washington, D.C., the Chamber of Shipping of America (CSA) presented 2013 Environmental Achievement Awards to those vessels that have achieved environmental excellence for at least a two-year period. Once again, Pasha Hawaii's Jean Anne received this distinguished honor. Since the vessel's eligibility in 2009, the company has been recognized three times for this award.
The CSA Board of Directors initiated this award program ten years ago. Joseph J. Cox, President of CSA says, "This is a great opportunity for owners and operators to recognize the accomplishments of their mariners and shore-side staff. These awards celebrate the dedication to environmental excellence of our seafarers and the company personnel shore-side who operate our vessels to the highest standards. In today's world, it seems our industry only gets front-page news when spills or other environmental problems occur. It is encouraging to see how many vessels go for years achieving environmental excellence. It should be clear to the American public that we in the maritime industry take our stewardship of the marine environment very seriously. While the public hears of instances when there are environmental problems, we want them to know this industry has an excellent record of environmental accomplishment."
George W. Pasha, IV, Pasha Hawaii President, notes, "We are extremely proud of our Captains and our crew members, not to mention our operations staff, who put such dedicated effort towards maintaining our "green" thumbprint at sea and ashore. This award exemplifies their dedication and teamwork. With our next vessel coming on board in 2014, we look forward to its inclusion in future CSA awards."
Photo: U.S. Coast Guard, RDML Joseph A. Servido, Assistant Commandant for Prevention Policy, Pasha Hawaii's Captain Greg Johnson and Chief Engineer Mats Holmquist.