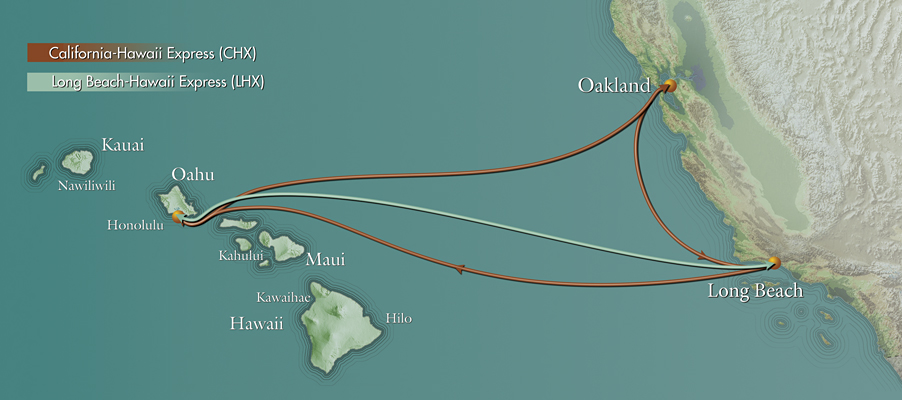 Pasha Hawaii provides a full complement of ocean and intermodal services between the U.S. Mainland and Hawaii. With the deployment of Marjorie C as new tonnage and the addition of four vessels through acquisition, Pasha Hawaii has made significant investment to support the growth in the Hawaii market. The image above illustrates our container-shipping routes between the U.S. Mainland and Hawaii. For our container customers, we have weekly departures from Long Beach on Wednesdays and Saturdays with quick 4-day transits offer flexibility and ample capacity for time sensitive cargos to Oahu and the Neighbor Islands. Our Wednesday departure to Honolulu with connections to Neighbor Islands supports key refrigerated, grocery and agribusiness markets sourcing from Northern California.
Pasha Hawaii's frequent, reliable schedules extend to each of the major ports of Hawaii's Neighbor Islands. We provide container shipping services to the following Hawaiian islands:
Honolulu – Island of Oahu
Hilo – Island of Hawaii
Kawaihae – Island of Hawaii
Kahului – Island of Maui
Nawiliwili – Island of Kauai
Kaunakakai – Island of Molokai
Kaumalapau – Island of Lanai
For details on our container shipping services, please visit our Container Shipping Overview.