Adding New Capacity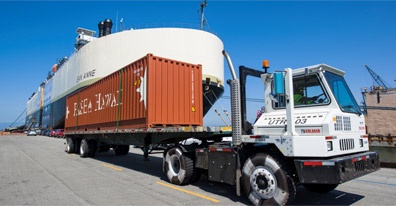 Wednesday, July 4, 2012
It has been 162 years since King Kamehameha III chose Honolulu as the official capital of the Kingdom of Hawaii. At the heart of this beautiful Island paradise lies Honolulu Harbor, once a small and dormant fishing village. The King's proclamation was the impetus that led to the development of the harbor to attract vessels of all types so the kingdom would prosper, and its people would be well-provided for. In 2012, its evident this goal was met, as the harbor is very much a center of bustling commerce, as numerous large ships and tankers navigate its waters day and night.
Today, Pasha Hawaii gracefully sails into this harbor with its flagship vessel, the M/V Jean Anne. When she is moored at Piers 31-34, you can catch a glimpse of her as she discharges cargo to meet the needs of our customers in the Islands. Once laden with outbound cargo headed for the West Coast of California, she majestically heads toward sea.
Something New
And now a long-requested service is in place. We have always listened to our customers in order to meet their expectations. The latest result? Pasha Hawaii introduces its newest cargo commodity – containers! Originally designed as a Pure Car Truck Carrier, the Jean Anne was modified over a six-month period this year to provide clearance on the vessel to accommodate up to 50 double-stacked 40' standard containers per voyage. With a true spirit of independence, the first containers arrived in Honolulu on July 4, 2012.
Diversified Cargo
Since her launch in 2005, the Jean Anne has been providing roll-on roll-off service for a wide range of vehicles, yachts, heavy machinery and oversized cargo. Adding containers to the mix not only provides our current customers with an additional option for shipping their cargo, but opens the market to new clients who can appreciate Pasha Hawaii's specialized shipping services.
Behind the Scenes
Bringing weekly service to Pasha Hawaii's sailing schedule, and anticipated to launch in 2014, the M/V Marjorie C is the latest vessel to join the fleet. This 692' ConRo (combination Container Ro Ro vessel) will be a striking addition to the vibrancy of the Honolulu Harbor, her home port.