The Spirit of Aloha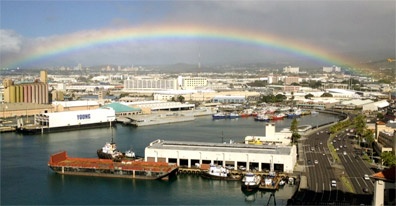 Tuesday, January 1, 2013
Recognizing the growth opportunities to come when the Marjorie C launches in 2014, as well as noting a healthy increase in our existing business, Pasha Hawaii is ramping up its presence in Honolulu. A recent move to spacious new headquarters in the Fort Street Tower of the TOPA Financial Center allows room for an expanded sales staff, and its location overlooking the Harbor provides easy accessibility to our clients.
"Aloha" is more than a word of greeting or farewell, or a salutation. Aloha means mutual regard and affection, and extends warmth in caring with no obligation in return. Aloha is the essence of relationships, in which each person is important to every other person. In the spirit of Aloha, the Pasha Hawaii staff invited customers and colleagues in the industry to an Open House and Blessing of the new office, with Reverend William Kaina officiating. Blessing ceremonies in Hawaii are a time-honored custom, dating back to the early days of Hawaiian culture. Three elements are fairly universal to a blessing: the asking for blessings, the sprinkling of salt water, and the untying of a maile lei (made from the leaves of a fragrant, native twining shrub) that has been gently draped and tied across a threshold.
Representing the healing waters of the ocean, salt water is sprinkled on the space to cleanse it of any possible impurities. The untying of the maile lei opens the space being blessed. The threshold may then be crossed, and the ritual is complete.
Particularly tailored for the Pasha Hawaii team, in his blessing Reverend Kaina cited three important concepts: "Laulima," the joining of many hands to work together and cooperate in growth, "Lokahi," referring to unity and harmony and "Kuleana", meaning both privilege and responsibility. Pasha management, including Chairman George Pasha III and CEO George Pasha IV, then participated in the ceremonial cleansing, as Reverend Kaina stirred the salt water using ti leaves. The Pashas then untied the maile lei, opening the doors to allow Reverend Kaina to walk through and bless the entire office space.
Aloha means to hear what is not said, to see what cannot be seen, and to know the unknowable. In that spirit, Pasha Hawaii foresees a bright future in the Aloha State. E komo mai – We welcome you to our new home.