Customer Update 8/7/14: Hurricanes Iselle and Julio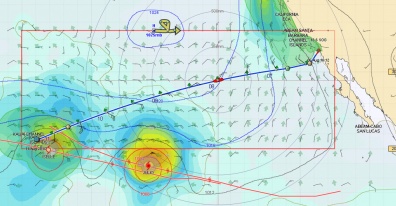 Thursday, August 7, 2014
As Hurricanes Iselle and Julio approach the Islands, our first concern is that our families and friends take all necessary precautions to remain safe throughout the storms, including stocking up on emergency supplies.
The Coast Guard is closely monitoring the forecasts for Iselle and Julio. If the current forecast does not significantly change, they anticipate closing the ports on Oahu to all traffic at 6 o'clock tonight. Ports on the Big Island and Maui have already closed in preparation for the storm. Winds are forecasted to impact Kauai tomorrow.
The M/V Jean Anne departed the Port of San Diego on Wednesday morning and will remain tactfully behind the path of the second storm. We have also added lashing and bracing safeguards to ensure the security of cargoes on board the vessel during high winds.
At this time, we do not anticipate any schedule interruptions. In the event that port closures affect our currently scheduled receiving and delivery hours, we will make changes to those hours to allow sufficient time for cargo receipt and delivery. View current schedules.
If you have questions about your cargo shipment, please contact us or speak with your Pasha Hawaii account manager. We will continue to update you as new information becomes available.