Customer Update 8/8/14: Hurricanes Iselle and Julio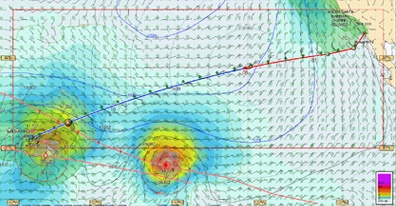 Friday, August 8, 2014
Hurricane Iselle was downgraded to a tropical storm just before 11 p.m. HST. She became the first tropical storm in 22 years to hit Hawaii, making landfall on the Big Island with winds of 60 mph.
Fortunately, Iselle has weakened and is moving west northwest and pushing offshore from the Islands. Hurricane Julio is close behind, but expected to track north of the Islands.
All ports and terminals in Hawaii have been closed until further notice. We will update you once the ports re-open and we are able to offload Jean Anne voyage V239E, initially scheduled for arrival on Monday afternoon. At this time, all vessel deliveries have been suspended.
"As yet the Jean Anne is not experiencing any adverse effects from Julio," said Captain Steve Bond. "The vessel will divert and/or slow down as we approach the Hawaiian Islands to minimize heavy seas and winds; this will be dependent on how Julio tracks. We have taken extra precautions aboard the vessel, checking lashings on cargo and the ship's gear. Additional lashings have been added as deemed necessary."
If you have questions about your cargo shipment, please contact us or speak with your Pasha Hawaii account manager. We will continue to update you as new information becomes available.