In Memory of George Pasha, III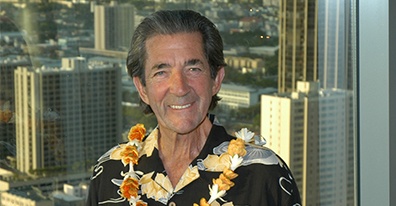 Wednesday, August 27, 2014
To our valued clients, colleagues and many friends, it is with deep regret that I must share with you the news that our Chairman, George W. Pasha, III, left us August 20, 2014 after a brief illness. In 1960, when he joined the company founded by my grandfather in 1947, he immediately put his entrepreneurial spirit into action, eventually creating the global transportation and logistics company that exists today as The Pasha Group.  The diversity and success of the company's operations is the result of his vision, as is our reputation as a leader in our industry.
He remained active in the company until his death. He enjoyed his role as Chairman of the Pasha Hawaii Advisory Board, which assured we stayed connected and responsive to the needs of the Hawaiian community and sensitive to the unique local business landscape and challenges.  I am pleased that he was able to know that our new vessel, M/V Marjorie C, named after my mom's mother, was successfully launched.  His spirit will sail with her as she joins M/V Jean Anne, the namesake of my dad's mother.  He was my mentor in many ways.  Never one to shy away from a strong opinion, he was nevertheless proud and supportive of all our ventures.  His day-to-day involvement and, often, his behind the scenes help made a tremendous difference as we moved forward into building on our strengths as an innovative company.
He leaves the third generation of Pashas to carry on his legacy.  His many contributions cannot be overestimated.  He was generous in spirit, and in his recognition of the needs of the communities where we live and work.  He will be greatly missed by his family, our employees, and the many friends he came to know so well over 50 years in the industry. 
George W. Pasha, IV and the Pasha family 
See the video of George III in his recent Founders & Visionaries feature or read his obituary here.