State-of-the-art vessels will ply the Hawaii-West Coast route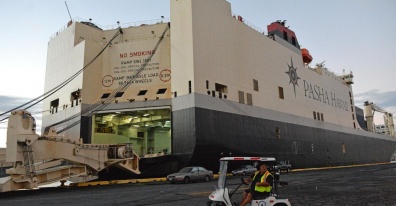 Friday, October 16, 2015
Article courtesy of Pacific Business News
by Darin Moriki
When the time came for Horizon Lines to turn over its Hawaii trade lanes, ships and employees to The Pasha Group, those close to the $141.5 million deal say the transition did not come without its fair share of challenges.
"Probably one of the most difficult challenges was to maintain business as usual after the transaction closed," The Pasha Group President and CEO George Pasha IV told PBN in an e-mail. "We did not have any downtime to stop or delay current or upcoming shipments to meld the two companies together."
He said another significant undertaking was acquiring 680 new employees overnight, literally.     
"There were human resource issues that needed to be handled to make sure former Horizon employees would continue to receive their current pay and employee benefits, and they needed to be integrated into the Pasha Hawaii operations," Pasha explained. "Thankfully, we acquired great employees who remained focused on providing our customers with excellence."
Still, buying Horizon Lines' trade lane assets and launching its new, $200 million Marjorie C cargo carrier simultaneously allowed Pasha to have a greater presence in Hawaii's cargo shipping market. Both investments, Pasha said, "allowed us to expand our current offerings to better serve our customers and provide increased cargo flexibility and capacity."
"With Marjorie C and the Horizon acquisition, we basically went from a two-ship company with 20 Hawaii-based employees to a six-ship entity with 700 employees, and we expect continued growth," Pasha said. "Hawaii's economy is doing well. Hawaii's construction industry is booming and the car dealership industry is strong — all of this leads to an increase in overall business." 
New investments for Pasha and Matson
Hawaii's largest cargo carriers that operate direct connections to Mainland ports say they plan to continue investing in Hawaii's market.
Earlier this year, Pasha Hawaii launched its newly-built, 692-foot Marjorie C cargo carrier, named after Marjorie Catherine Ryan, the grandmother of The Pasha Group President and CEO George W. Pasha IV. The $200 million ship, which can carry up to 23,800 tons of cargo and transport up to 1,200 vehicles, became the family-held company's sixth ship and sole combination container and roll-on/roll-off vessel in its fleet.
"Hawaii is a very important market for us," Pasha told PBN in an email. "When we built and launched the M/V Jean Anne in 2005, we knew we eventually wanted to add a second ship and planned for this." He said the purchase was financed through Bank of America without any government subsidies, "through a low debt load and lower overall costs of doing business through investments made to streamline our administrative support and operating costs."
"Hawaii has been and continues to be a profitable market for us, which is critical to enable Pasha Hawaii to support the large capital expenditures needed going forward," Pasha said. "We will continue to invest in the Hawaii market."