Trade with Hawaii: Growth Marked by New Vessels Entering Hawaii Service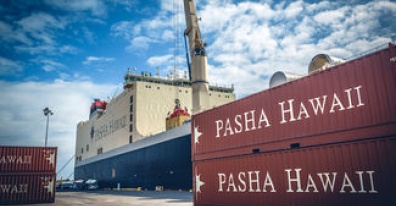 Sunday, November 1, 2015
Article courtesy of Pacific Maritime
By Mark Edward Nero
The 10 commercial ports that make up the Hawaii harbor system may never be ready to challenge the major ports on the Mainland as far as traffic volumes go, but they aren't exactly sitting idly by these days.
Over the past year, there has been growth in the region and some significant events that have taken place have, to an extent, reshaped a sizable portion of the maritime industry landscape.
One of the biggest regional developments over the past 12 months was ocean shipping and logistics company Horizon Lines selling its Hawaii trade lane assets to Pasha Group as part of Horizon's dissolution as a company.
It was last November when Horizon, which had operated a Hawaii circuit for about a decade, announced that it had agreed to sell its Hawaii operations, including four Jones Act container ships, to Northern California-based Pasha.
"Hawaii has always been a very important market for us, and purchasing Horizon's Hawaii operations allowed us to expand our current offerings to better serve our customers," Pasha Hawaii spokeswoman Laurie LaGrange told Pacific Maritime Magazine.
Pasha's ties to Hawaii actually date all the way back to World War II. It was then when the company provided vehicle storage services in San Francisco for troops deployed to Hawaii. Now the $141.5 million purchase of the Horizon Lines assets, which became final in late May, has significantly boosted Pasha's standing in the region.
"Acquiring Horizon's Hawaii trade-lane businesses made sense," LaGrange explained. "It will nearly double our annual revenue going forward. The acquisition also provides us with the opportunity to grow our business in a very important market, and like Pasha Hawaii, Horizon and its subsidiaries have strong ties to Hawaii and the Mainland, and are aligned with our integrated shipping and logistics model. Combining the two businesses allows us to more effectively serve an expanded customer base while maintaining our customer service philosophy."
Currently, Pasha Hawaii has four US-flag container ships, with three of them operating alongside the dedicated roll-on/roll-off vessel Jean Anne and the combination container and roll-on/roll-off vessel Marjorie C, which was introduced this past May.
Pasha Group has also expanded its ports-of-call to include Los Angeles and Oakland, plus has more than doubled the frequency of its shipments.
Pasha's assets purchase also included three Horizon subsidiaries: Hawaii Stevedores Inc.; the California-based operations of Sea-Logix LLC, which provides trucking services; and Sunrise Operations, a subsidiary that includes Horizon's Hawaii trade-lane vessels and employees.
Adding Hawaii Stevedores provides Pasha Hawaii with the experienced manpower to load and offload cargo, LaGrange said, while Sea-Logix provides the company with increased intermodal services for cargo delivery.
Phenomenal growth for the company has come with the acquisition of Horizon Lines' Hawaii assets, LaGrange said.
"Pasha Hawaii basically went from a two-ship company with 20 Hawaii-based employees to a six-ship entity with 700 employees," she said. "We expect continued growth. The Hawaii economy is doing well and we will be prepared with our expanded fleet and integrated logistics model to meet this increased demand."
Read the full story here.