Marine Log's The Best Ships of 2015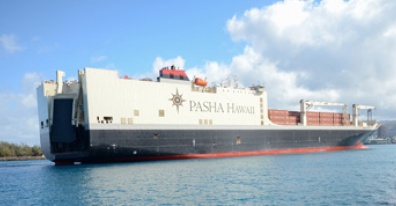 Wednesday, December 16, 2015
Pasha Hawaii's Marjorie C was included in Marine Log's "The Best Ships of 2015," ranking #6.
This year's award winners range from the world's first LNG-fueled containership to an ethane-powered ship to a green towboat for the Snake-Columbia River System. (Extended coverage from Marine Log's December 2015 issue).
MARJORIE C, NEW JONES ACT CONRO Capable of carrying up to 1,200 cars and 1,400 TEU of containers, the Combination Container and Roll-on/Roll-Off (ConRO) vessel Marjorie C entered Jones Act service this year between the U.S. West Coast and Hawaii.
Built by VT Halter Marine, Pascagoula, MS, the Marjorie C was engineered from a proven design by Grimaldi at Croatia's Uljanik Shipyard. The 692 ft x 106 ft ConRO has a draft of 31 ft, deadweight of 21,132.5 metric tons, with nine decks. It has a stern ramp capacity of 350 metric tons. The ship has a service speed of 21.5 knots.
The vessel's design incorporates the highest level of operating efficiencies as well as reduced environmental impacts. The sister vessel, Jean Anne, was Pasha Hawaii's first Jones Act vessel and has been serving the Hawaii/Mainland trade since March 2005. The Marjorie C entered into service this past May.
The ship is named in honor of Pasha Hawaii's President and CEO George Pasha, IV's grandmother, Marjorie Catherine Ryan.
"After more than three and a half years of planning and construction, we are pleased to unveil a ship that has been designed to not only accommodate the varying needs of our customers, but a vessel that minimizes our carbon footprint through extensive fuel consumption efficiencies and other green technologies," said Pasha Hawaii's President and CEO, George Pasha, IV. "With the addition of the Marjorie C we can now offer customers increased service and capacity between the West Coast and Hawaii trade lane on vessels providing superior reliability and cargo protection."
Read the full article at Marinelog.com.