Pacific Maritime: Trade with Hawaii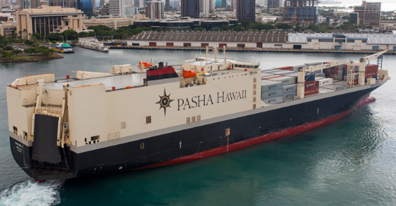 Monday, April 3, 2017
Article courtesy of Pacific Maritime Magazine
By Mark Edward Nero
Although the combined population of the Hawaiian Islands is relatively small compared to most US states at about 1.5 million residents, the number has grown more than five percent since 2010, and is expected to rise by just under a percent annually between now and 2040, according to state data.
And with population growth comes an expanded focus on infrastructure. Since more than 80 percent of all goods consumed by Hawaii residents are imported, it stands to figure that the 10 commercial ports that make up the Aloha State's harbor system play an important role in sustaining the island's residents and visitors.
Especially since of the aforementioned 80-plus percent of all imported goods consumed by Hawaii residents and its visitors, nearly 99 percent flows through the Port Hawaii commercial harbor system.
The importance of seaports to the state of Hawaii was particularly evident in mid-December when the Hawaii Department of Transportation's harbors division kicked off the initial construction phase of a state harbor modernization plan.
Phase I of the plan includes construction of a new berthing and container handling facility, dubbed the Kapalama Container Terminal, located at the site of a former military reservation. The new terminal is designed to consist of a new container facility, plus berthing capacity for two container ships.
State officials have said that the container terminal, which is the centerpiece of Hawaii's harbor modernization plan, is vital to maintaining the just-in-time shipping logistics necessary to sustain the island state.
The purpose of the ongoing $500 million Harbor Modernization Plan initiative, which was launched a decade ago, but kicked into another gear in 2016, is to among other things: identify key improvements to expand harbor system capacity; address advancements in containerized cargo handling; alleviate congestion issues as well as the lack of available operational space; and develop more adaptable and resilient port facilities.
An early component of the initiative was completed in May 2016, when two Honolulu Harbor piers were improved and upgraded. Improvements to Piers 12 and 15 include a new electrical system, waterlines, dock fenders and mooring bollards, along with upgraded lighting, roofing, fencing and pavement.
The construction cost was about $10 million, paid for completely with state funds.
Pasha Hawaii
Concurrent with the Hawaii DOT upgrading its seaport facilities, the shippers that conduct business in and around the ports are growing the business that they conduct with the ports, including Honolulu-based shipper Pasha Hawaii, a subsidiary of Northern California-based transport and logistics company The Pasha Group.
Pasha Hawaii, which specializes in shipping to and from the Mainland, announced in November 2016 that it had shortlisted two US shipyards for the construction of a pair of new liquefied natural gas-fueled containerships, with the option to order two additional vessels.
The vessel order outlines a shipping capacity of 3,400 TEUs, including 500 45-foot containers and 400 refrigerated containers, as well as a sailing speed of 23 knots. Delivery of the first vessel is expected mid-2019, with delivery of the second expected in early 2020.
Pasha, which entered the Hawaii shipping business in 2005, has said that it plans to continue making significant capital investments to support an expanding customer base and the local business community as a whole.
The two LNG dual-fueled vessels are expected to be the first of their kind in the Hawaii-Mainland trade lane, operating fully on LNG from their first day in service, according to Pasha. Energy savings are also expected to be achieved via a state-of-the-art engine, an optimized hull form, and an underwater propulsion system with a high-efficiency rudder and propeller.
"In addition to increasing capability for our customers, these new ships will represent a new era in shipping for Hawaii in terms of greatly reduced emissions and increased efficiency," Pasha Hawaii President and CEO George Pasha IV said at the time the vessels were announced.
After originally saying that a decision between the two shipbuilders under consideration would be made in January, Pasha later revised the date to the end of the first quarter, right around the time that this issue of Pacific Maritime Magazine went to press.
Pasha hasn't disclosed the names of the two shipyards vying for the deal.
"We are fortunate to have shipyards within the United States that are very capable of building best-in-class cargo ships, including LNG-powered vessels, competitively," Pasha IV said.
Matson Inc.
Like Pasha, another transportation company with a substantial presence in Hawaii, Matson Inc., is renewing its fleet in order to better serve Pacific trade.
Last August, Matson Navigation Co. announced that it had signed a contract with San Diego-based General Dynamics NASSCO for the construction of two new combination container and roll-on/roll-off (con/ro) vessels for its Hawaii fleet.
The contract price is $511 million for both vessels, with deliveries scheduled for late 2019 and mid-2020.
Matson is calling these vessels the "Kanaloa Class" in honor of the native Hawaiian culture's god of the sea. Each ship is being named after predecessor ships from the company's 134-year history, with the first vessel being named Lurline, the sixth Matson vessel to carry that name. The second vessel will be Matson's fifth carrying the name Matsonia.
The two Kanaloa Class ships are replacing three diesel-powered vessels in active service, which are being moved to reserve status.
The Kanaloa Class vessels are being built on a 3,500-TEU vessel design structure, which is 265 meters (869 feet) in length and about 34.9 meters (114 feet) wide, with a deep draft of 11.5 meters (37.7 feet) and enough enclosed garage space for up to 800 vehicles.
In addition, Matson says, the new vessels will have state-of-the-art green technology features, like a fuel-efficient hull design, environmentally safe double hull fuel tanks and fresh water ballast systems. Also, they'll have dual-fuel engines, so they'll be able to operate at speeds up to 23 knots on either conventional fuel oils or LNG.
"The Kanaloa Class ships will be built specifically to meet Hawaii's freight demands while reducing our environmental impact and improving our efficiency for decades to come," Matson Inc. President and CEO Matt Cox said in a statement.
Upon the delivery of the Kanaloa Class ships, along with two new Aloha Class ships, Matson will have completed the renewal of its Hawaii fleet, thereby allowing the company to retire seven older steamship vessels that by 2020 could no longer comply with environmental regulations without substantial modification.
Construction of the two Aloha Class vessels began in Philadelphia in the second half of 2015. The 850-foot long, 3,600-TEU vessels, which are being built for an aggregate price of $418 million, are expected to be delivered in the final two quarters of 2018.
The larger capacity of the Aloha Class and Kanaloa Class vessels will allow the company to return to a nine-ship fleet deployment in Hawaii, which Matson says will increase efficiency and lower operating costs, partially because the new vessels will be more fuel efficient than the ships they replace, and will add rolling stock carrying capacity while lowering operating, repair and maintenance, and dry-docking costs.
Young Brothers Ltd.
Unlike Matson and Pasha, Honolulu-based freight forwarder Young Brothers Ltd. specializes in intrastate shipping, not interstate. And while the state and other shipping companies are preparing for projected growth, YBL, which knows island-level shipping like no other Hawaii company, says that its data show that shipping between islands has shown little-to-no growth for years.
YBL, which is an independent subsidiary of Seattle-based Foss Maritime, provides multiple weekly port calls from Honolulu to the six other neighbor island ports. Inter-island shipping was essentially flat in 2016 at 0.1 percent growth, compared to 1.1 percent growth the previous calendar year, according to the company's intrastate shipping volumes data, which reflect cargo shipments that begin and end within Hawaii.
"For the year, most ports were lower or flat against the previous year, reflecting a general lack of economic growth drivers," Young Brothers Vice President Roy Catalani said in a statement.
During the first half the year, intrastate cargo volumes grew by only 0.6 percent in the first and second quarters and declined by 0.6 percent in the third quarter, according to YBL data. In contrast, most ports were relatively strong in agricultural shipments during the last three months of the year; however, agricultural shipments ended 2016 down four percent.
For the 12-month period that ended last December, overall cargo volumes rose at two island ports: Hilo, which was up by 4.1 percent; and Kaua'i, up 0.6 percent. However, cargo volumes fell at the other four ports: Kahului was down by 1.5 percent; Kawaihae, fell 4.8 percent; Moloka'i, dropped by 3.8 percent; and Lāna'i, declined 8.3 percent.
Young Brothers said construction-related shipments statewide were down last year due to the completion of large projects, and that a drop in automobile shipments also contributed to lower overall volumes for 2016.
Also in 2016, statewide agricultural volume ended the year down 4.0 percent because of low volumes throughout the earlier part of the year, YBL said. However, in the last three months of the year, statewide agricultural cargo volume grew by 4.6 percent from the same period last year, the first increase in agricultural volumes since the first quarter of 2015.
From January through December 2016, agricultural exports were down 1.5 percent on O'ahu; down 8.7 percent in Hilo; down 10.1 in Kawaihae; down 4.7 percent on Kaua'i; and down 0.6 percent on Moloka'i. Maui was the only port to experience an increase in cargo volumes at 9.8 percent, according to Young Brothers data.
The numbers suggest that while the big shipping companies are preparing for a upward trend in container traffic that may come somewhere down the line, in the present a boom has yet to manifest itself.