Pasha Hawaii Funds $25,000 Restoration Project at Hale Mauliola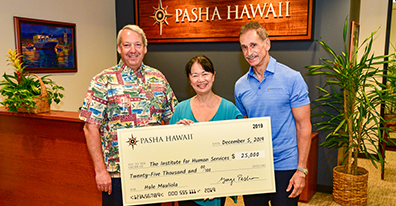 Tuesday, December 10, 2019
(L-R): George Pasha, IV; Connie Mitchell, The Institute for Human Services; Reggie Maldonado, Pasha Hawaii.
Pasha Hawaii has donated $25,000 to The Institute for Human Services (IHS) for a restoration project at Hale Mauliola, a transitional shelter and service center at Sand Island. Managed by IHS in partnership with the City and County of Honolulu, Hale Mauliola is a low-barrier Housing Navigation Center for unsheltered individuals, couples, and pet and vehicle owners that utilizes converted shipping containers as housing units, while providing residents with the wrap around services needed to successfully transition them into permanent housing. Hale Mauliola became the city's first homeless navigation center when it opened in 2015.
"Every day of the year, the folks at IHS are providing humanitarian services and resources to Hawaii's unsheltered," said George Pasha, IV, President and CEO.
 "My late father, George Pasha, III, was always such a strong supporter of IHS and what they stand for. He knew IHS' founder Father Claude DuTeil and would visit the shelter, providing support especially to the children and their families. One year, he even provided funds to purchase Halloween costumes for all of the children. As Hawaii's homeless rate per capita continues to be amongst the highest in the nation and the demand for complex services increases each year, it's important for our community to provide support to IHS so they can sustain the good work they do in providing assistance to those in need."
According to IHS, Pasha Hawaii's donation will be used to pressure wash and paint the buildings and housing units; install a new security camera system; create a vegetable garden for residents; and improve the landscaping throughout the Center. Pasha Hawaii's donation will be supplemented with employee volunteers from Pasha Hawaii and its sister company, Hawaii Stevedores, Inc., to assist with these tasks. Hale Mauliola is located across the street from Pasha Hawaii's Honolulu Container Terminal, Pier 51, at Sand Island, where Hawaii Stevedores' administrative offices are also located. Over the past few years, Pasha Hawaii has donated several of its containers to IHS to be used as housing units at Hale Mauliola.
Connie Mitchell, Executive Director for IHS, said the organization was honored to receive this gift. "The generous gift from Pasha Hawaii is a shining example of deep community - people caring for their neighbors when they need a boost.  Their donation and volunteerism will surely inspire many who are working on being rehoused, with improvements that will enhance guests' experience at our Navigation Center at Hale Mauliola."
Hale Mauliola can house up to 104 people. Since its opening four years ago, the Center has provided transitional shelter and wrap around services to 1,042 individuals, with more than half coming directly from living on the streets. Of the 1,042 individuals served, 301 have been able to move on to permanent, supportive housing.