Pasha Hawaii Crew Receives USCG Award for Rescuing Downed Pilots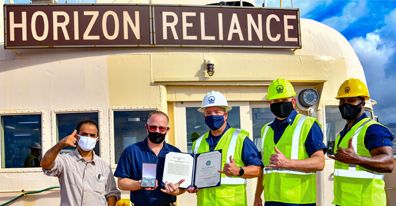 Monday, December 7, 2020
Crew members aboard Pasha Hawaii's Horizon Reliance cargo vessel received a public service award this morning from Rear Admiral Matthew W. Sibley, Assistant Commandant for Capacity, U.S. Coast Guard, for their successful search and rescue efforts of two pilots, whose aircraft went down in the Pacific Ocean on November 6th. The award was presented to Pasha Hawaii's Captain Eric Veloni, on behalf of the Horizon Reliance.
On November 6th, a single engine turboprop motor failed in a new Pilatus PC-12 NGX aircraft at 28,000 feet above the Pacific Ocean, forcing a water landing at 5,000 feet. The plane dragged its tail across three waves in the ocean before landing on the fourth, causing immediate flooding of about a foot of water within the aircraft.
The aircraft's two uninjured pilots escaped the flooded plane in their life raft and called the U.S. Coast Guard via satellite phone, requesting immediate search and rescue. At the time of the call, the plane was approximately 1,100 miles North East of Oahu, Hawaii.
En route to Honolulu from California, Pasha Hawaii's Horizon Reliance was one of two ships called by the U.S. Coast Guard to divert and rescue. A tanker was the first on the scene and after several attempts to bring the pilots on board, were unable to complete the rescue mission.
The Horizon Reliance arrived shortly thereafter and requested to re-attempt the rescue mission. Led by Captain Mark Tuck, the crew successfully rescued the pilots on their first try. After the pilots were safely aboard the Horizon Reliance, the crew secured all gear; provided medical care, food, water and dry clothes for the pilots; and proceeded to Honolulu.
"It's always an honor to answer a call for service from the U.S. Coast Guard," said George Pasha, IV, president and CEO, Pasha Hawaii. "The search and rescue operation conducted by Captain Tuck and his crew was done without hesitation and was performed exactly as they are trained to do. November 6th was a very proud and gratifying day for all of us at Pasha Hawaii."