Pasha Hawaii Vessels Ship Multiple Aircraft for U.S. Marine Corps Integrated Training Exercise in California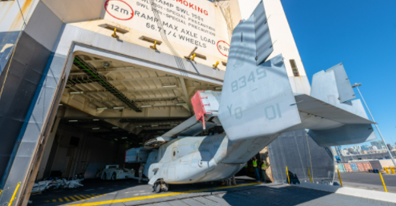 Tuesday, March 23, 2021
Pasha Hawaii's M/V Marjorie C recently served as the official transport vessel for the United States Marine Corps, delivering eight Osprey aircraft and associated equipment from Joint Base Pearl Harbor-Hickam to Naval Air Station North Island in San Diego for a recently completed two-month Integrated Training Exercise (ITX). In addition, Pasha Hawaii's M/V Jean Anne was also utilized to transport four Hueys and four Cobra helicopters and associated equipment in support of ITX.
Naval Air Warfare Center Aircraft Division Lakehurst (NAWCAD LKE) Air Ship Integration Branch formally granted temporary approval to Pasha Hawaii to use M/V Marjorie C to transport up to thirteen V-22 (to include MV-22 and/or CV-22 variants) aircraft as bulk cargo. This approval was granted based on findings of a detailed and closely coordinated remote evaluation procedure that was developed to enable continued shipboard certifications in a COVID-19 restricted environment.
Marines and sailors from around the Marine Corps, including Hawaii, participated in Service Level Training Exercise (SLTE) 2-21 at Marine Corps Air Ground Combat Center (MCAGCC) in Twentynine Palms, California throughout January and February 2021. Following the conclusion of ITX, Marjorie C was used to transport aircraft back to Joint Base Pearl Harbor. 
SLTE is a series of separate exercises designed to prepare the Marine Air Ground Task Force to respond to crises and conflicts around the globe by increasing their ability to integrate actions across the full range of military operations.
In a press release issued earlier by the U.S. Marine Corps, Col. Fridrik Fridriksson, Director of Tactical Training and Exercise Control Group (TTECG) said, "This exercise really showed the strength of the Marine Corps in that we can take a unit from anywhere around the Corps and know that when we plug them into a new headquarters, they will perform."
Col. Fridriksson went on to say, "I was impressed by the fact that 6th Marines was able to pull units from both Camp Pendleton and Hawaii, fold them into their command structure, and seamlessly operate with them." The TTECG supports the exercises that run throughout the year at the MCAGCC.
"We consider it an honor to support our military wherever we can," said George Pasha, IV, President and CEO, Pasha Hawaii. "Our team always looks forward to working with our military partners on these official transports. The unique design of both Marjorie C and Jean Anne makes it possible to roll-on and roll-off oversized military equipment into a fully enclosed area with minimal dismantling or handling."