Pasha Hawaii Makes Historic Voyage, Providing Hands-On Training to Academy Cadets Aboard MARAD's TS Golden Bear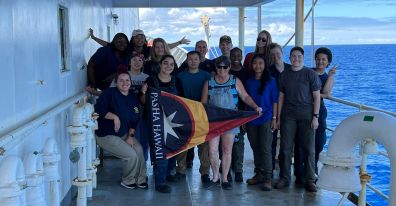 Friday, July 29, 2022
Maritime training vessel, operated by a diverse mix of officers, arrives in Honolulu, HI during training cruise in the Hawaii/Mainland trade lane.
For the past two weeks, nearly 100 maritime academy cadets from the California State University Maritime Academy, U.S. Merchant Marine Academy, and Maine Maritime Academy have been given the opportunity of a lifetime – to work side by side, 24/7, with 39 professional seagoing officers and crewmembers aboard the Training Ship Golden Bear (TSGB), managed by Pasha Hawaii. Owned by the U.S. Department of Transportation Maritime Administration (MARAD), TSGB serves as a training vessel for cadets and midshipmen to apply skills learned in the classroom to real-life experiences aboard an operating vessel.
"Pasha Hawaii is honored to be chosen by MARAD to not only sail TSGB, but to provide professional mariners as mentors to these cadets," said Captain Gregory Johnson, Fleet Superintendent and former Master of Pasha Hawaii's MV Jean Anne and MV Marjorie C.
"It's really history in the making for these students to receive valuable one-on-one training with highly skilled mariners, who do this for a living. Coupled with that, is the combining of cadets from multiple maritime academies, where students can share their different viewpoints and experiences. Normally, we don't require that many crewmembers to sail a vessel, but felt it was important to increase the number of team members to serve as mentors. Hopefully, this training platform will be utilized more frequently."
Pasha Hawaii assumed management and operation of TSGB on July 8, 2022. The TSGB sailed from Cal Maritime in Vallejo, CA on July 16, 2022 to Aloha Tower Pier 10 in Honolulu Harbor for a three-day stopover before heading back to San Francisco Pier 50, and on to San Diego, with an eventual return to Vallejo on August 30, 2022.
Captain Elizabeth Neumyer is Master of the TSGB, and is joined by nine other female officers and crewmembers serving in a variety of roles including Port Engineer; Master; Chief Mate; 2nd Mate; 2nd and 3rd Engineers; Chief Cook; Steward Assistant; and Store Keeper.
"It's been such a privilege to lead this commercial training cruise," said Captain Elizabeth Neumyer. "From the start of this voyage, I made it a priority to provide a positive, inclusive training environment built on the same level of professionalism and respect we require from all crewmembers. Not only are we leading these cadets by example, but we have been running this voyage as we would a commercial vessel, treating our cadets as maritime professionals who are learning to follow industry guidelines and protocols. In just a short period, I've seen the positive effect this has had on our cadets. They are noticeably more confident and comfortable with the tasks and responsibilities they have been given."
"While I was only on this cruise for about two weeks, I learned a lot more from this experience than I have on my other training cruises," said Cadet Chief Mate Erin Bailey. "The availability of maritime professionals that built a career outside of Cal Maritime gave me insight into the industry that I haven't had before, as well as the confidence to continue pursuing my goals."