Pasha Hawaii Celebrates 'MV Janet Marie' Inaugural Call to the Port of Long Beach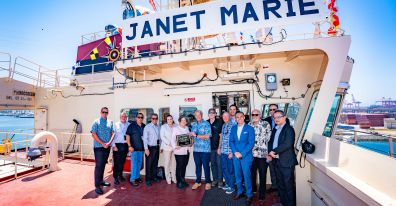 Saturday, July 29, 2023
In commemoration of MV Janet Marie's first call to the Port of Long Beach, Harbor Commission President Sharon L. Weissman (center) presented Pasha Hawaii President and CEO George Pasha, IV (center) and MV Janet Marie Capt. Doug Fisher (standing next to George Pasha) with a plaque in honor of the ship's Captain and Crew.
Hawaii-based Pasha Hawaii welcomed the newest member to its container ship fleet with the arrival of MV Janet Marie at the Port of Long Beach in California, where she will begin her maiden voyage to Honolulu, Hawaii. Janet Marie is the second of two new 'Ohana Class, 774-foot Liquefied Natural Gas ("LNG")-powered container ships built at AmFELS. The new vessel joins Pasha Hawaii's fleet serving the Hawaii/Mainland trade lane, as well as the company's first 'Ohana Class vessel, MV George III, which began service on August 17, 2022.
Following Janet Marie's inaugural visit to Long Beach, she will head to Hawaii, arriving in the Port of Honolulu, her home port. Like George III, Janet Marie operates on LNG from day one in service. 
The new Jones Act vessel surpasses the International Maritime Organization (IMO) 2030 emission standards for ocean vessels, accompanying her sister ship, George III, in representing the most technologically advanced and environmentally friendly vessels to serve Hawaii. Energy efficiencies are also achieved with a state-of-the-art engine, an optimized hull form, and an underwater propulsion system with a high-efficiency rudder and propeller.
"Today represents another milestone as we celebrate the second of our two 'Ohana Class vessels," said George Pasha, IV, President and CEO, Pasha Hawaii. Named after Pasha, IV's late mother, Janet Marie along with George III, mark three generations of dedicated service to both California and Hawaii.
"These ships symbolize the best of American ingenuity and ship building," added Pasha, IV. "My mother was a wonderful supporter of the entire Pasha enterprise, and like my father, had much aloha for our team members, colleagues and partners. We are extremely grateful to the Port of Long Beach for their invaluable partnership and support in bringing both George III and Janet Marie to fruition."
"Pasha Hawaii's newest containership represents our move toward a cleaner future for this Port, our community, and the supply chain," said Port of Long Beach CEO Mario Cordero. "Reducing emissions caused by port operations has been a long-time practice for us, and remains our priority until we reach a goal of deploying all zero-emission cargo-handling equipment by 2030, and zero-emission trucks by 2035."
"We are proud to be one of the global ports capable of accommodating ships operating on cleaner fuels, putting us on a path to enhancing air quality throughout the region," said Long Beach Harbor Commission President Sharon L. Weissman. "We thank Pasha Hawaii for leading the way in cleaner shipping at the Green Port."
Pasha Hawaii is a wholly owned subsidiary of the family-owned global logistics and transportation company, The Pasha Group, one of the nation's leading Jones Act shipping and integrated logistics companies.