Pasha Hawaii celebrates the inaugural arrival of MV Janet Marie at the Port of Oakland with a christening ceremony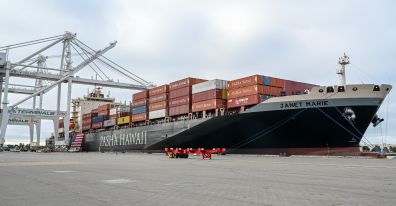 Wednesday, August 9, 2023
Pasha Hawaii and the Port of Oakland celebrated the arrival of MV Janet Marie to the Port of Oakland with a christening ceremony, marking the company's second Liquified Natural Gas ("LNG")-powered container ship to call the Bay Area. The Oakland Seaport is considered the gateway for containerized ocean cargo shipments in Northern California. Janet Marie is the second of two new 'Ohana Class, 774-foot LNG-powered container ships built at AmFELS. The company's first 'Ohana Class vessel, MV George III, began service on August 17, 2022, becoming the first LNG-powered container ship to call the Bay Area.
Pasha Hawaii is a subsidiary of the 76-year-old, third-generation, family-owned company The Pasha Group, whose roots were planted in the Bay Area in 1947. George III and Janet Marie are named in honor of George Pasha, III and Janet Marie Pasha, the late parents of Pasha Hawaii's President and CEO George Pasha, IV.
"These ships represent the legacy of my parents and the company they helped build from humble beginnings in San Francisco," said George Pasha, IV, President and CEO, Pasha Hawaii. "The success of our family business has always been based on ingenuity, striving for excellence and doing what is right for our customers and the communities where we live and work. Both George III and Janet Marie provide our customers with best-in-class vessels, while setting the standard for environmental stewardship when it comes to ship design and construction. Today is a very proud moment for the entire Pasha team and our family."
Chris Connor, President and CEO of the American Association of Port Authorities and Board Member of The Pasha Group served as emcee for the christening ceremony. Connor was joined by guest speakers Danny Wan, Executive Director of the Port of Oakland; Oakland Deputy Mayor Kimberly Mayfield; Seafarers International Union President David Heindel; and Pasha Hawaii President and CEO George Pasha, IV. Pastor Michael Ryan and Sister Judy Ryan, of St. James Cathedral in Seattle and siblings to the late Janet Marie Ryan Pasha, conducted a Catholic blessing, followed by a traditional Hawaiian blessing by Kahu (Pastor) Kordell Kekoa of Honolulu. George Pasha, IV's sister, Mary Jane Pasha, served as the ship's sponsor, overseeing the breaking of the champagne bottle.
Operating on natural gas from day one, the new Jones Act vessel surpasses the International Maritime Organization (IMO) 2030 emission standards for ocean vessels, representing the most technologically advanced and environmentally friendly vessel to serve Hawaii. Energy efficiencies are also achieved with a state-of-the-art engine, an optimized hull form, and an underwater propulsion system with a high-efficiency rudder and propeller.
"We thank Pasha Hawaii for bringing the sister ship of the first LNG-powered containership to call the Port of Oakland," said Port of Oakland Executive Director Danny Wan. "This visit by the MV Janet Marie gets us closer toward achieving the Port's goal of a zero-emissions seaport."